Three posts in one day? What could have caused that? Why the lovely Mrs. Beguiles of course. While she is not responsible for the homeschool mayhem she did ask us to describe our wedding gowns. Now even five years after the fact, there is little that can delight me more than talk about it, except perhaps talking about my wonderful husband. But that must be another post. I love wedding shows even up to this day, and despite the fact that my wedding was done on a budget, with lots of friends pitching in, I thought it amazing, and I still wouldn't trade my wedding gown for anything of the fanciest designer.
I always joke that I actually had the design of my wedding gown before I was even engaged.
I had, and still have, an interest in medieval style, and had bought a pattern in the hope of making the gown for a convention, but in the end decided against the attempt.
I remember having send a picture of the pattern to my husband, then my 'suitor' at the time, talking enthousiastically about the convention. He mentioned how much he thought the gown would suit me. Once we were engaged, I could not get that gown out of my head. So instead of the months of bridal shopping that I had always envisioned myself doing, trying on everything possible, I asked a seamstress to create my wedding dress from the pattern I already had.
At the same time, I had stumbled in one of my favorite lace shops over a magnificent lace veil with lily of the valley. Since it was completely out of my budget I put all thoughts about it aside and considered maybe embroidering my own veil. However, a few months later, my mother and mother in law conspired together and gave it to me as a thirtieth birthday gift.
And now.. on to my dress. We chose a light ivory silk. The silhouette had princess seams and long sleeves. It was important for me to have sleeves, and I loved the way they turned out.
The ring pillow was made in the same lace as the veil, so this gives you a close up look of the lily of the valley pattern, that I can't seem to capture in the other pictures.
I wore a crown of flowers on my head instead of a tiara, because it seemed to suit, besides I didn't want a tiara to take the attention off the veil. Everything somehow had a bit the style of a time when the whole world was still divided in tiny realms, and local ladies of the keep married with flowers in their hair, joining two families and had a big feast afterwards for friends and neighbours and all the community.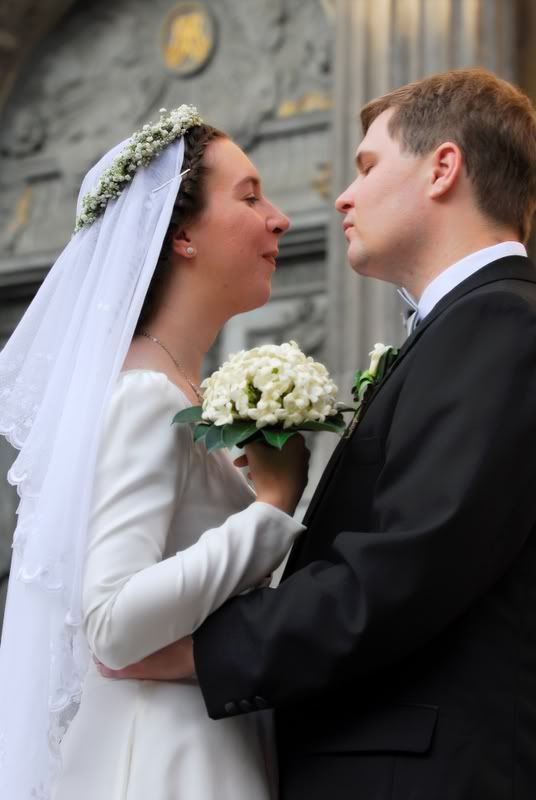 In keeping with that theme, and because we didn't see the need for an expensive rental car, we just walked through the city towards the cathedral, which was my parish church at the time. It was a lot of fun with people we had never met shouting well wishes to us as we passed.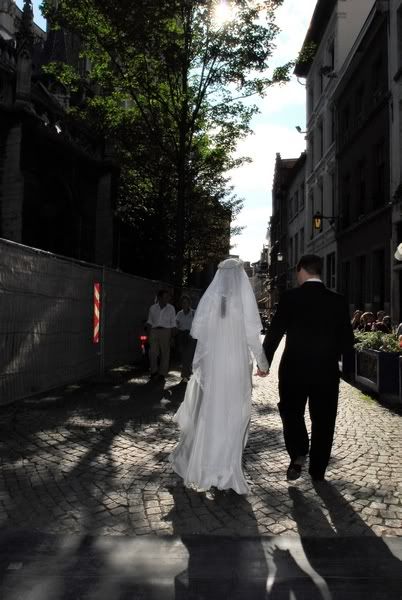 All in all, I guess I looked rather oldfashioned, but I loved it, and even though we didn't do it on purpose, it fit the setting in the cathedral.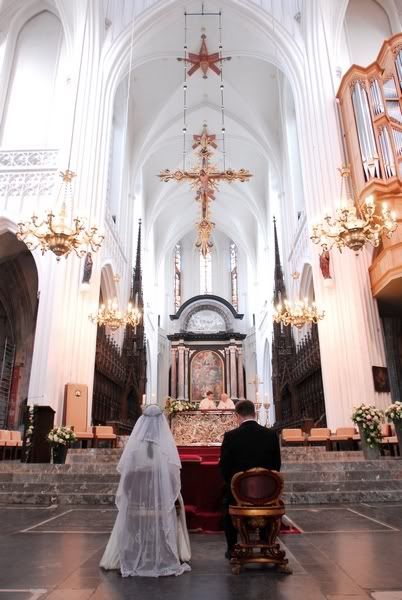 When we left after the wedding, we just caught one lucky ray of light, like a final blessing on our vows.
And almost five years later, I adore my husband even more than I did on that most wonderful of days!